less volume - more space.
At VAUW we are proud to offer 100% recycled flat folding furniture that is easy to install, transport and store. Our furniture is made of reinforced cardboard, so you can enjoy stylish and durable designs that are also environmentally friendly. Whether you're moving, redecorating your home, or looking for a more sustainable option, Vauw Furniture has you covered. Join us in our mission to make mindful living easy and stylish...
VAUW folding furniture
We combine design and user-friendliness, making our products suitable for placement in any environment. Our furniture is easy to use, foldable and convenient to transport and store when not in use, making it practical and space-saving.
Collection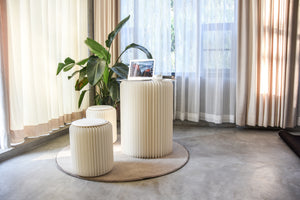 VAUW prioritizes the environment
Our furniture is manufactured using a unique honeycomb structure for strength and flexibility, with the ability to support up to 300 kg! Our eco-friendly material is made from recycled raw paper that has undergone a special process that makes it resistant to water and moisture.
VAUW foldable displays
We offer tailor-made solutions in addition to our standard products. If you are looking for a contemporary display in any shape or size, do not hesitate to contact us.